The restaurant is at the heart of the office of Nidera, a global commodity service and solutions provider for agricultural markets founded in Rotterdam in 1920. It is a place where employees of different departments can work and meet each other and where guests are welcomed around an elongated bar. A special lighting solution was introduced for the restaurant. Situated adjacent to the public core, glass elevators and escalators run past it with people coming up from the entrance and parking floors, rising right through the middle of the office of Nidera.
| | |
| --- | --- |
| Client | Nidera |
| Location | Rotterdam |
| Timeline | May 2015 - October 2015 |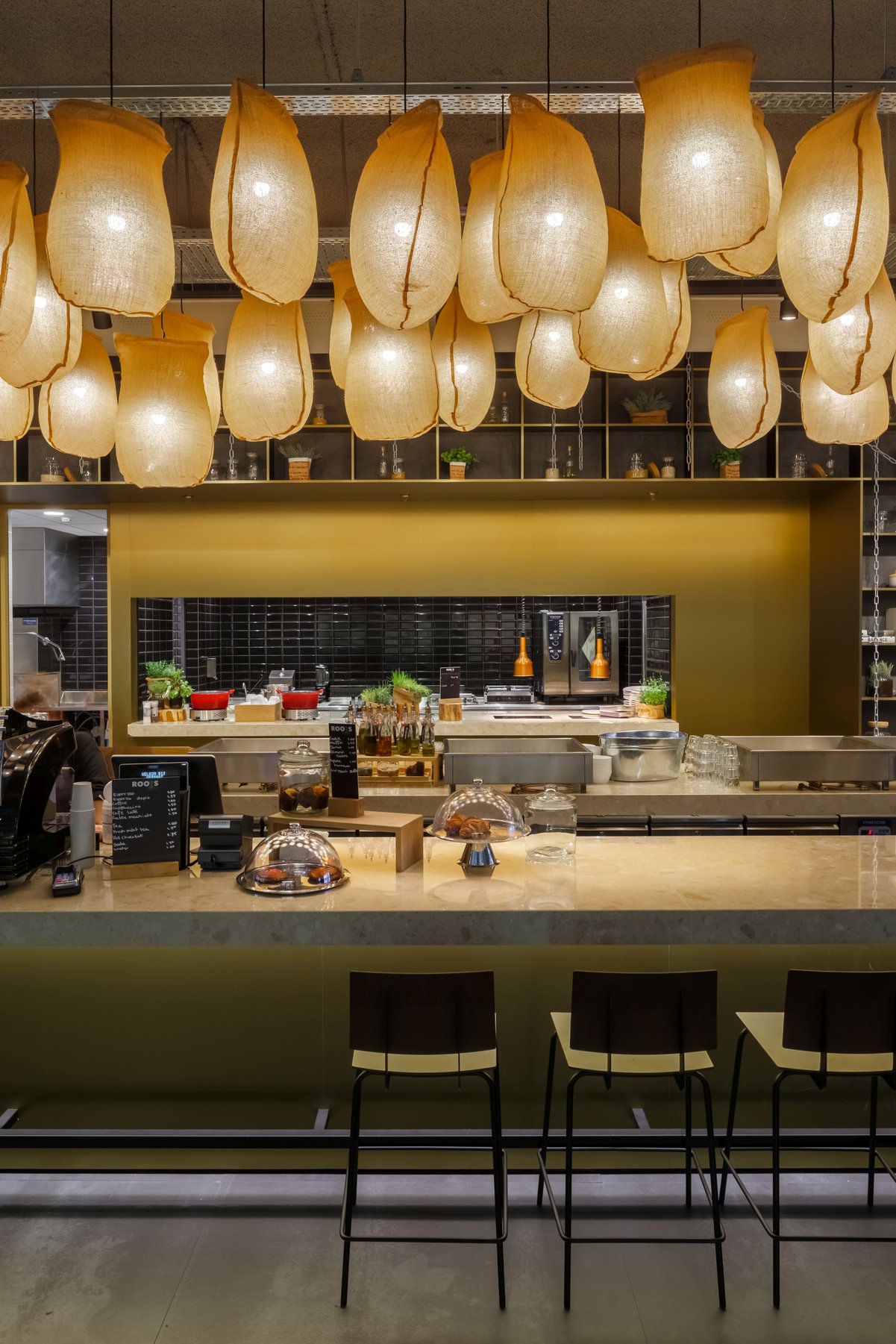 Fokkema & Partners designed a lighting plan that expresses the stamina of the agricultural business and the warmth of the restaurant at the same time. FOK-lab, Fokkema's own research platform for innovation and tailor made architectural solutions, developed a unique lamp made out of jute. This rough and natural product identifies with the characteristics of the old harbour dock location and the design of the office. Large bags made out of jute were once the means of transport for grain and other agricultural products.
FOK-lab developed a method to produce the lamp within a tight building schedule. To maintain their shape, the jute sacks were treated with a fire retardant polyester resin, developed by composite experts from the yachting industry, Schaap Ship CARE. In this process FOK-lab also collaborated with PD Lighting and Kromwijk Elektro.
Photography by Horizon Photoworks.
A cloud of 61 'zaklampen' or 'bag lamps' light up the heart of the new Nidera office in De Rotterdam.