| | |
| --- | --- |
| Client | TU Delft ECHO |
| Location | Delft |
| Square | 8.750 |
| Timeline | November 2018 - Maart 2019 |
TU Echo is an interfaculty education building, which all the TU Delft technical studies can use, ranging from architecture to aerospace. With seven teaching rooms, 360 study places, and an inviting restaurant, the building offers space for a variety of functions. The building has been given an open, friendly appearance and contributes to TU Delft's sustainability ambition; it is energy efficient, robust, and flexible. Fokkema responded with a circular interior concept of reused furnishing elements, fresh-looking colours and playful signing.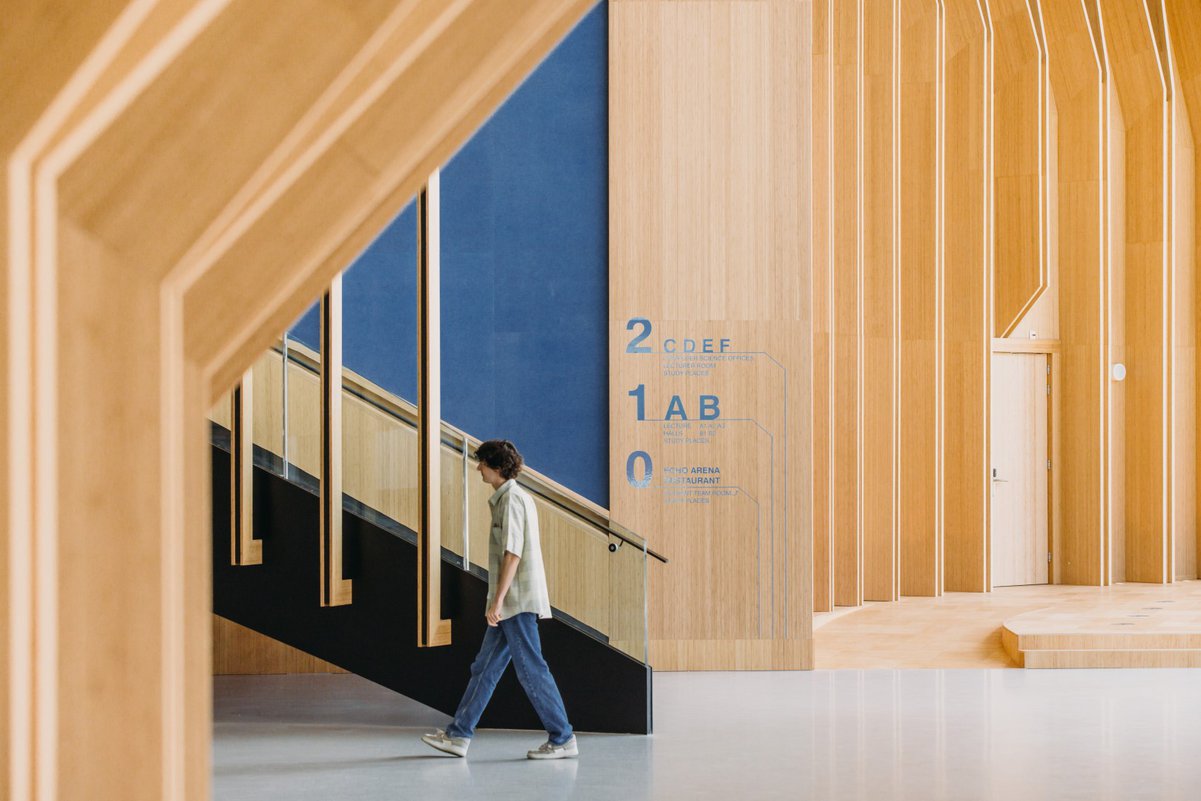 A circular design process
The circular concept doesn't only match the ambition of the TU Delft, but also of its users. Circularity is very much alive among the students of TU Delft; the topic is addressed from their curriculum onwards and they are themselves constantly working towards a sustainable future.

We didn't want to use new products and materials. Instead, we wondered how to get the desired look with reused and 'furnishing elements' that vary in their designs.
The answer lay in creating a spatial design book, communicating our circular concept for the interior. It enabled the TU Delft to harvest the furniture sustainably. In the design book, each element is defined as a 3D impression and reference images, supplemented with functional requirements - in terms of use, lifespan, cleaning, and maintenance.

As a result, the interior elements were harvested and refurbished by 'Workbrands'. To bring unity, we decided to finish the furniture - per category - in one colour. This was done by the company Cooloo, which offers ecological coating solutions, made with waste or natural materials such as textile jeans scraps and sand.
We responded to the warm and modern architecture, designed by UNStudio, with fresh yellow, blue, grey, and black interior elements. In doing so, the TU Echo building offers space for dynamism, thoughtfulness and room for reflection and growth.
The ambition of the students is translated into a circular concept - this generation expects nothing else!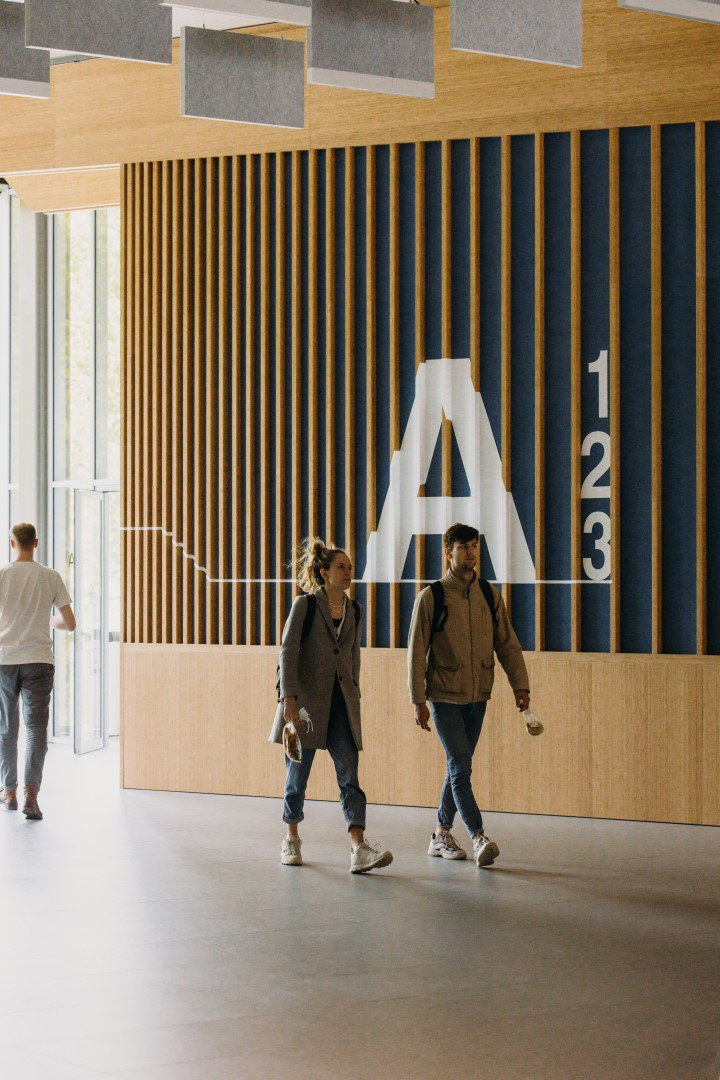 On 'making the mark'
After completing the interior concept we were asked to design the 'signing'. The routing of the building is intuitive and easy to follow because of the open logical building structure. In our view, the "signing" provided an opportunity to add an extra layer, to connect the various spaces subtly.
UNStudio designed the building with wooden ribs, almost like the sides of a mushroom. This playful rhythm of ribs reminded us of the straight lines and signs of technical notation, which is directly linked to the technical studies at the TU Delft. As a result, we ran the signing along these ribs, creating a natural and logical overall image and an interesting dialogue with the building.
Users' feedback
From the first day the building opened its doors, it has been hugely popular with students.
The study areas are crowded and the restaurant is often fully occupied. Feedback from the students shows that all the facets we committed to are experienced in reality. The building is robust yet comfortable, durable and cosy, and feels logical and accessible.

This circular design works almost like a magnet for the student community!

The exterior and interior of the building are designed by UNStudio, Fokkema & Partners was selected to design its furnishing and signing.
Photography by Eva Bloem.
As much as 90% of the furniture in the building has been reused. It is the first time TU Delft has had so much reused furniture in a building.