'Project Reflection' came to life with the renovation of the impressive home of Clifford Chance in Amsterdam: the nationally listed 'Droogbak' (1884). With the transition from a monumental interior to a contemporary work environment, all parameters were researched, questioned and tried. The design boasts innovation while harbouring traditions reflective of company values. Offering a new take on the firm's impressive portfolio, 'Project Reflection' takes position in the revived atrium.
| | |
| --- | --- |
| Cliënt | Clifford Chance |
| Sander | Schulp |
| Location | Amsterdam |
| Timeline | 2021 |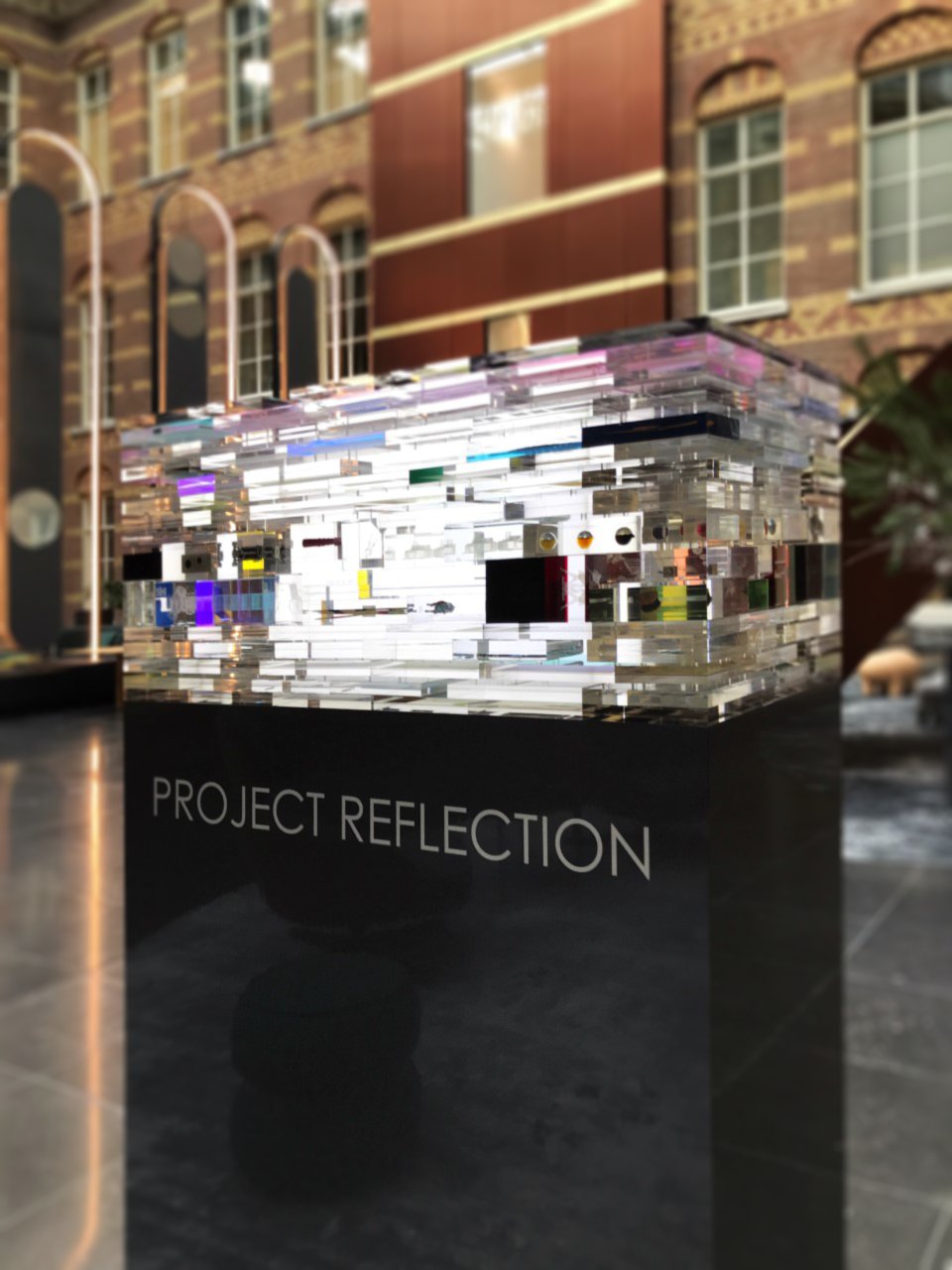 The observation of a distinctive common practise marked the start of 'Project Reflection'. Designed to celebrate and inspire, tombstones honour collaborations and completions of projects, making these tangible for future reference. The awards were found on display in many (private) offices spaces. With the renovation of the 'Droogbak', home to Clifford Chance Amsterdam for over 20 years, a number of these tombstones were found in the supernumerary. Fokkema & Partners set to the task of redefining its emotional value: from singular proofs of knowledge and expertise, into a multi-dimensional collective steppingstone.
By collecting the stones in layers and placing a light behind them, the authenticity of each stone is emphasized; yet the whole communicates oneness. The incredible inter-dynamic radiates the values at Clifford Chance, a law firm daring new approaches while staying true to its roots. 'Project Reflection' is a unique object, designed in keeping with the motto of Clifford Chance for the renovation: 'where innovation meets heritage'.
Check out this timelapse of the assembly of 'Project Reflection', which was realised in close collaboration with Horizon Creative:
Photography and videography by Sander Schulp
As a collection of memories 'Project Reflection' redefines the meaning of awards. In the end, it reflects a body of knowledge and know-how.