Financial services provider Nationale-Nederlanden set out to make an impact with a thorough renovation of its office spaces: sustainable, healthy and agile. The offices in Rotterdam and The Hague now emanate the dynamic work styles of the company with agile and activity-based working and many spaces to stimulate interaction. The decision to aim for a fully circular, zero-waste renovation, to be WELL Platinum Certified, is the result of a people-minded approach.
| | |
| --- | --- |
| Client | Nationale-Nederlanden |
| Location | Rotterdam and The Hague, The Netherlands |
| Square | 36.000 |
| Timeline | March 2019 - December 2021 |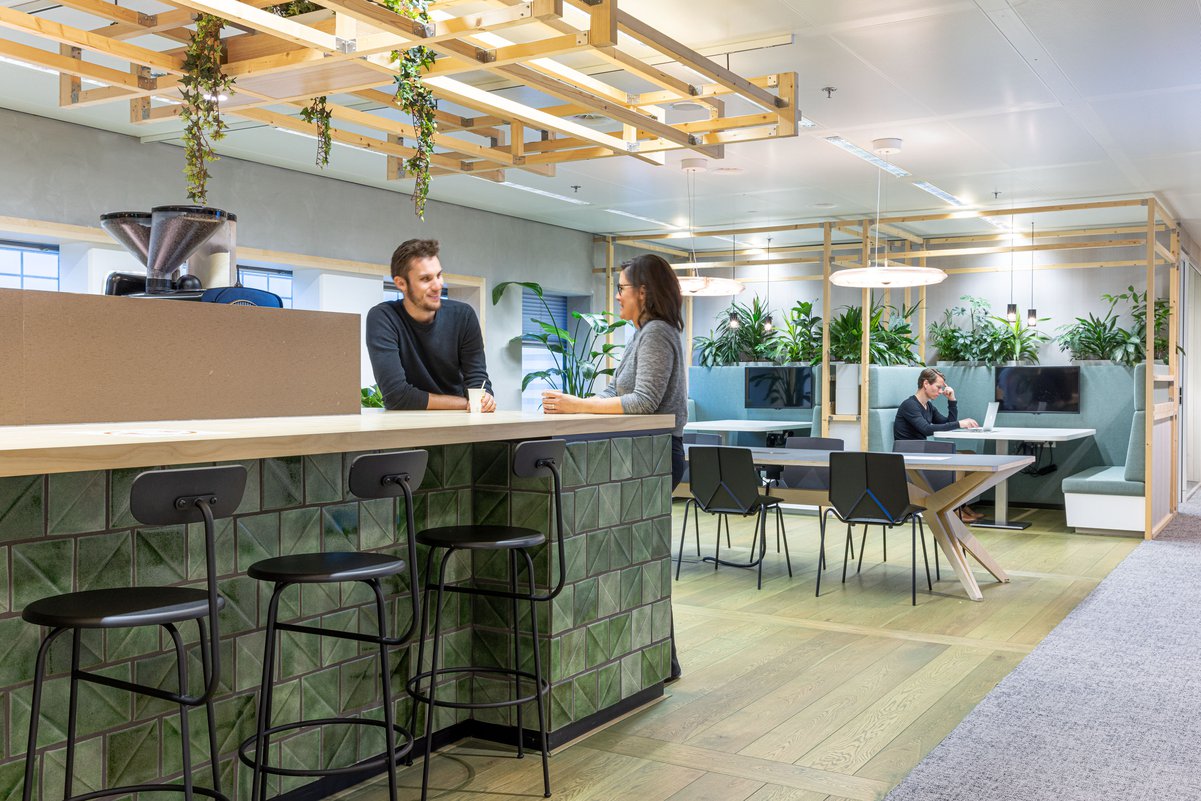 Nationale-Nederlanden envisioned a renovation that takes existing materials as the starting point for a sustainable, healthy and inspiring environment. With an extensive harvesting plan for the two sites, Delftse Poort and Haagse Poort, we have realised the biggest circular mining pit in the Netherlands.
Fokkema & Partners' design for the complete work environment incorporates the latest technologies for a digital-minded workforce and its partners. It offers a large variety of atmospheres and spaces to support interaction, team collaborations, meetings and concentrated working. The offices also include fully equipped collaboration floors, a far from standard typology to facilitate people working from home and only sporadically meeting each other at the office.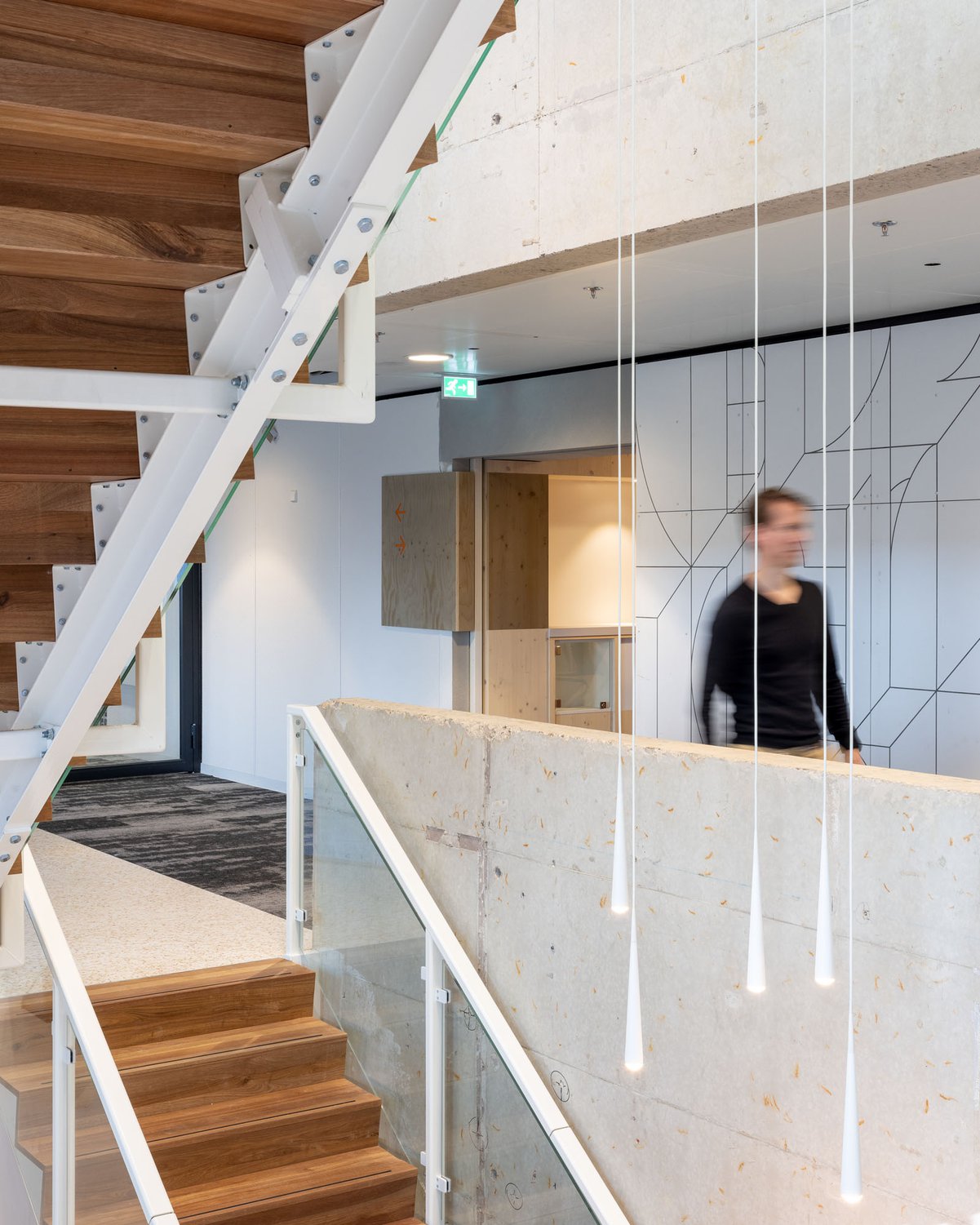 WELL Platinum for a zero waste and fully circular design
Nationale-Nederlanden has realised a 100% circular renovation, with Zero Waste and WELL platinum realising a whopping total of 37.000 square meters of office space. Of the existing walls, floors, ceilings, materials and furniture as much as possible is reused on-site, sometimes adapted, extending its service life. Where new materials have been added, they are fully circular, weighing the alternatives with life cycle analysis.
The design then considers standard sizes of the materials to minimize cutting losses and waste upon processing materials. It has been executed to be re-mountable, ensuring the raw materials remain intact for future harvesting. To realise zero waste during construction, even much of the cuttings and sawdust was captured and re-used elsewhere as raw material, for example, in flooring where filing is combined with a bio-resin, or to create unique mosaic objects. Packaging waste has been eliminated as much as possible. Altogether the environmental impact of the renovation is kept to a minimum.
But first and foremost, Fokkema & Partners made a spatial design to match user needs and make the most of the building qualities.
The decision to aim for a 100% circular, zero-waste renovation and to achieve WELL Platinum is the result of a people-minded approach.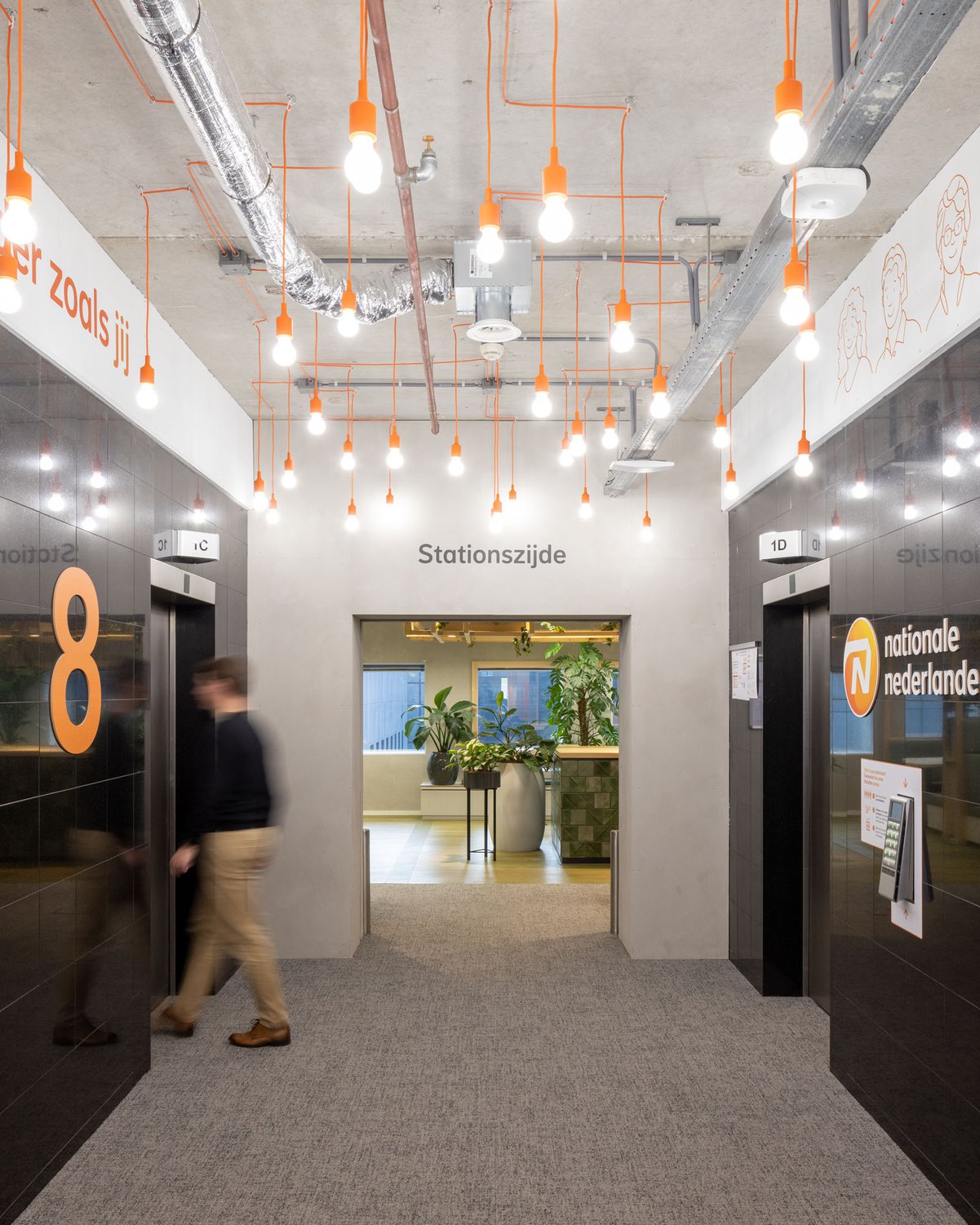 It's all about people
To optimally support people at work, the design follows the most ambitious guidelines of the WELL Building Standard.
The workspace is WELL V2 Platinum Certified to enhance people's health and wellness by providing a healthy and stimulating environment. For example, existing installations are adapted and complemented with motion detection and CO2 sensors for healthy and efficient exploitation. In terms of design, this means a focus on biophilia, using non-toxic materials, excellent acoustics, lighting and ergonomics, building a sense of community and promoting healthy lifestyles.
Nationale-Nederlanden not only wants to support its people; it also wants to inspire with the sustainable choices that are made. This way, including their people to become part of the bigger story. To communicate the level of detail, some of the choices that were made are highlighted by graphic imprints for each user to take in.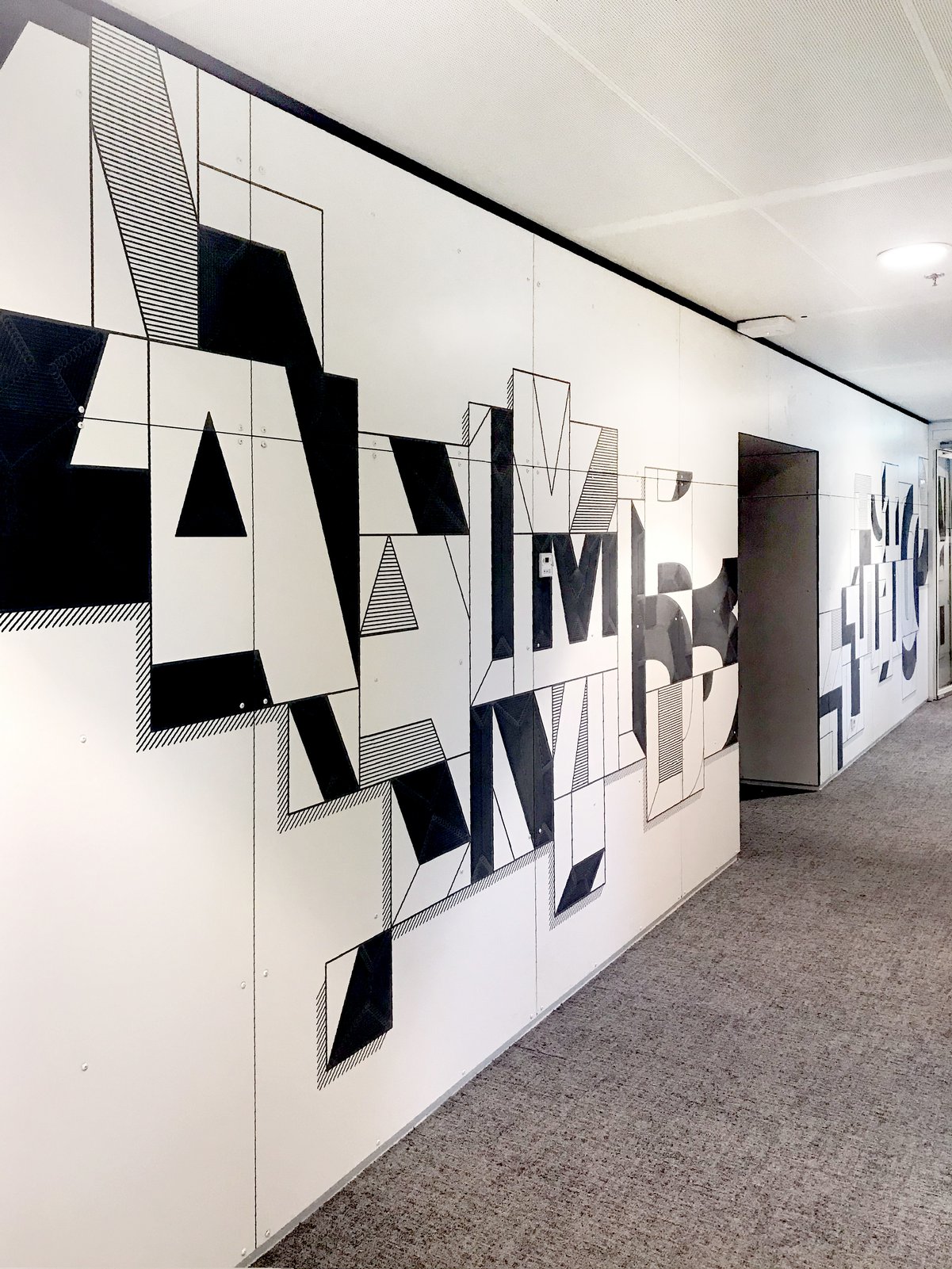 Co-creation
Selected in 2019, Fokkema & Partners started an intensive co-creation process with the user, project partners and market parties. The design was developed in close collaboration with user groups of Nationale-Nederlanden. Workshops, or so-called atelier sessions, were initiated to bring in expertise from various angles in the market, resulting in surprising finds and creative solutions.
The Nationale-Nederlanden Art Committee was asked to curate a pitch for young artists to make a work that ultimately transforms waste into art. The pitch concerns the walls around the building cores, clad with standard white 'trespa' panels that had become redundant and harvested from other building sites. Tobias Lengkeek and Said Kinos won, and their unique artworks are now milled out of the 'trespa', revealing its black core to form the graphical backbone of the offices. By upgrading second-life materials in this way, the circular ambitions also result in a super exciting and contemporary interior.
Materialising a circular, healthy and (inter)connected office
The most straightforward circular design example is that the loose furniture has a 99% better ECI score compared to a conventional project. This is the result of 70% one-on-one reuse from existing Nationale-Nederlanden interiors, supplemented with 20% second-life furniture and 10% new circular and innovative products.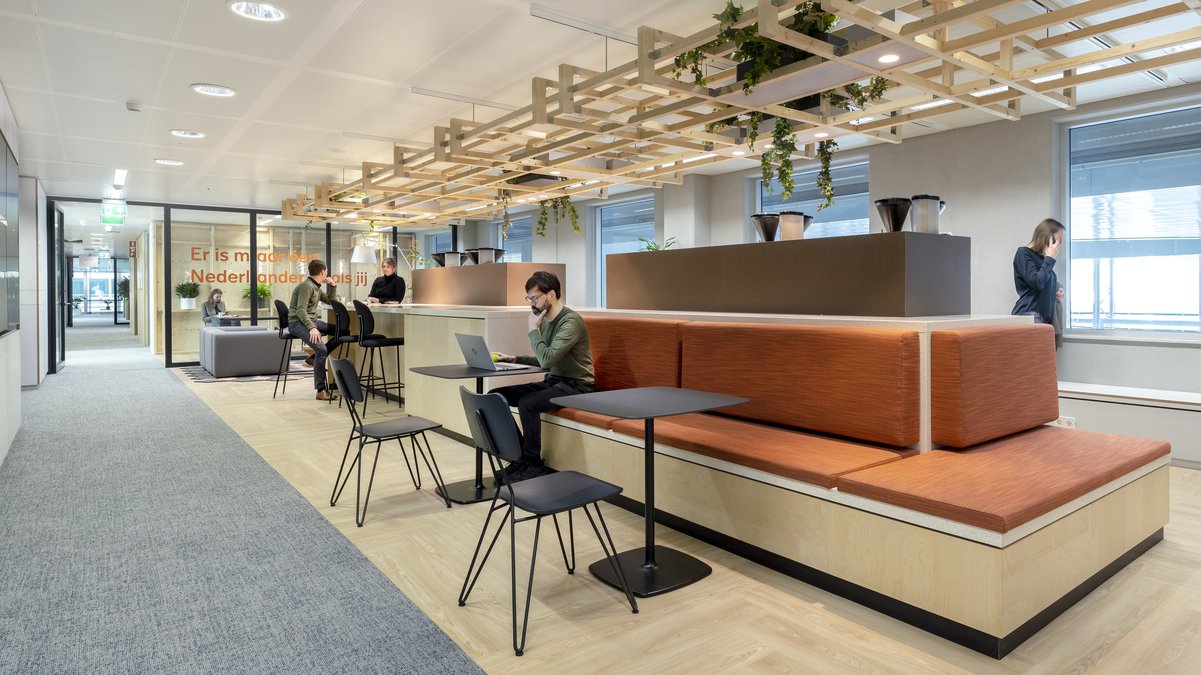 Interconnecting all material flows and allowing manufacturers to bring in expertise on the efficient processing of harvested materials, led to another array of examples making the design an inspiring reservoir of ideas.
The concrete, extracted when cutting the voids (which instigates movement and interaction) is re-used to make the void's balustrades. The remaining concrete is used to make the benches along the facades. Not only smart use of material qualities: it also reduces transportation costs and minimises the efforts to cut the concrete into smaller pieces.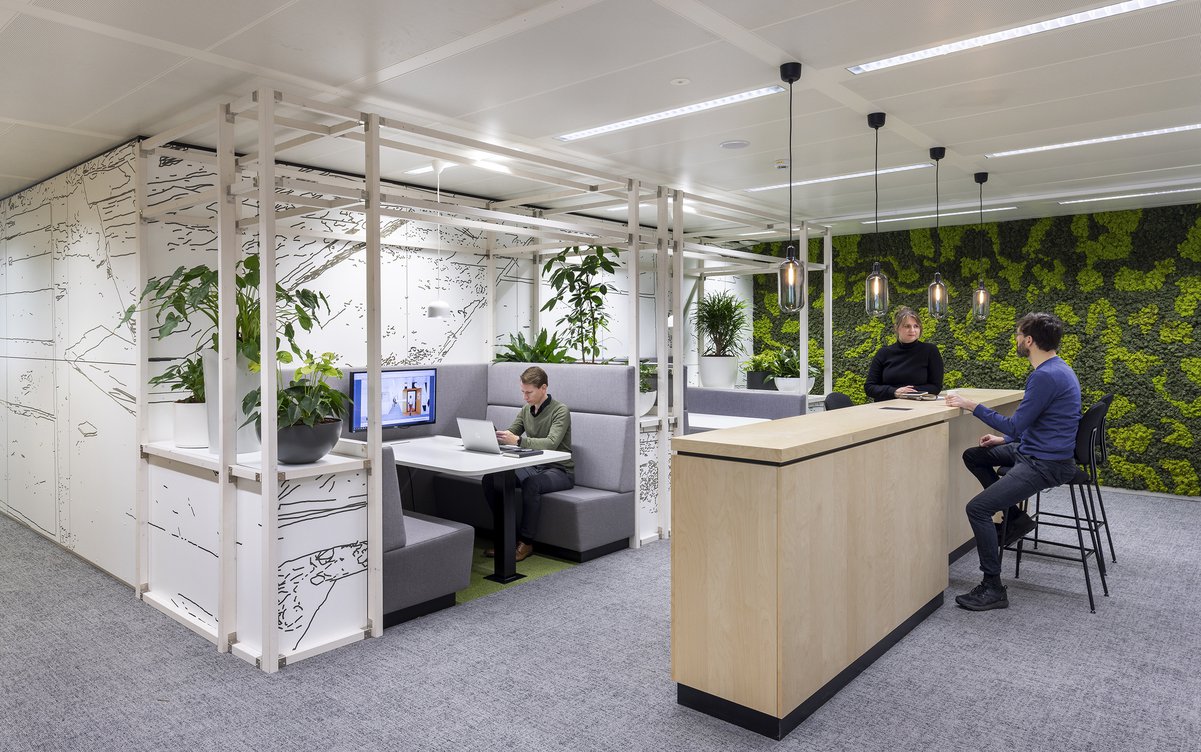 Mounting plates, not glue, are used to connect wooden elements. These are punched out of metal sheets according to a design to form a pattern. It makes the leftover sheets (otherwise seen as waste) an asset to the design by using them as space dividers.
It results in an exciting new aesthetic, with an overall coherent spatial design to bring it all together.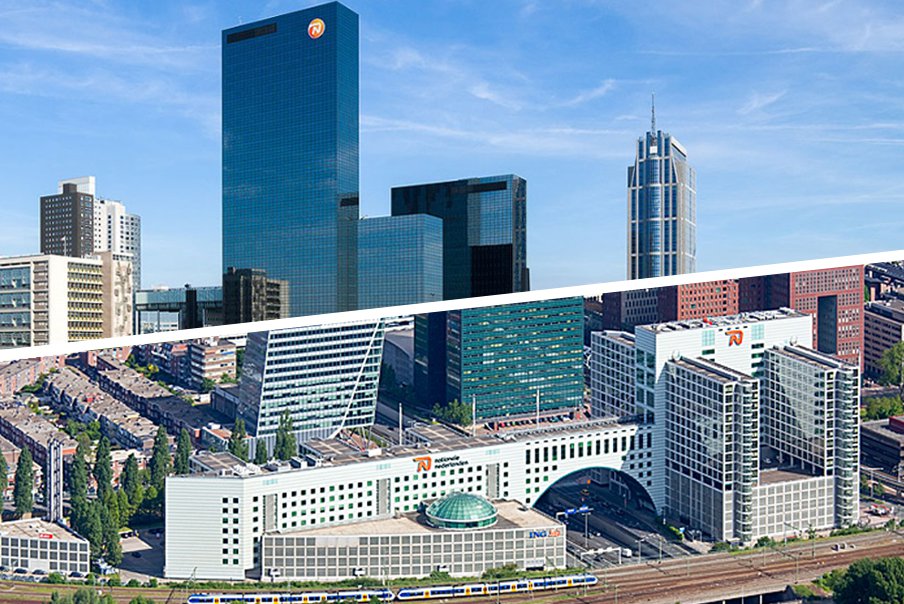 Project partners
Nationale-Nederlanden
Stevens van Dijck
Royal HaskoningDHV
LBP|Sight
BBA Binnenmilieu
Superuse Studios | Oogstkaart
Spaces4You
Gielissen Interiors
Vepa
JP van Eesteren
Veolia

Murals Said Kinos, Tobias Lengkeek
Photography Lucas van der Wee