Among the international branches of NautaDutilh, the office in Rotterdam was to maintain its own distinctive identity, building on almost 300 years of history in the city. Tough, robust and no-nonsense, unafraid of change and innovation: this seems somewhat at odds with characteristics as warm and chic which the lawyers also sought-after in their new interior.
| | |
| --- | --- |
| Client | NautaDutilh |
| Location | Rotterdam |
| Square | 10.000 |
| Timeline | March 2013 - March 2016 |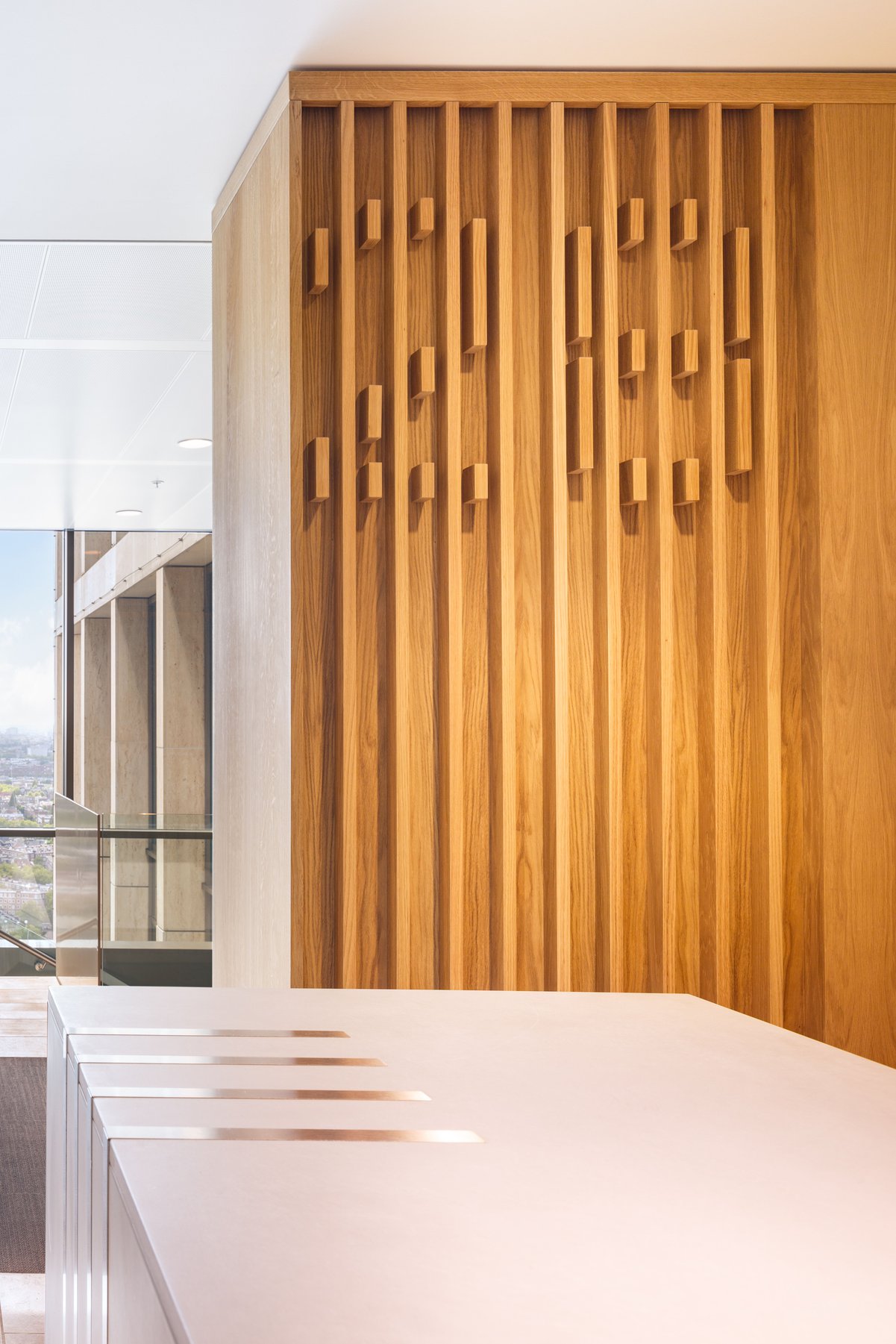 Fokkema & Partners have been able to create a coherent interior design on the top 9 floors of the new construction FIRST Rotterdam in which the two emotional worlds have merged and are represented as one.
In translating requirements for transparency, the design has become even more dynamic and social. While the tower is shaped like an "H", you are treated not only to incredible views over the city, but you also see the building itself and your colleagues. The use of robust, warm and natural materials in addition to the single glazed partitions attributes to achieving a surprisingly homely and exceptionally comfortable atmosphere.
On the office floors, building cores are decorated with oak lamella. The rhythmic design approach further includes the entrance desk, room numbers, the signing and cabinet handles. Topping out at 130 meters, the 2 penthouse floors include a conference centre, an innovation centre, a restaurant and a bar. Here, it was decided not to apply the timber lamella on the core. Instead, wallnut lamella line the walls of the meeting rooms and the building core has a robust plaster finish with a touch of pearl. The combination of contrasting materials makes the office feel chic and cool at the same time. The transparent interior design also instigates communication in a traditionally privacy oriented business.
Photography by Horizon Photoworks.