When Leijnse Arts moved from a traditional early 20th-century town-house into a highrise building, they presented Fokkema & Partners with the task to maintain the charm and open door policy from the original office while embracing the views and spacious qualities of the highrise.
| | |
| --- | --- |
| Client | Leijnse Artz |
| Location | Rotterdam |
| Square | 800 |
| Timeline | October 2017 - October 2018 |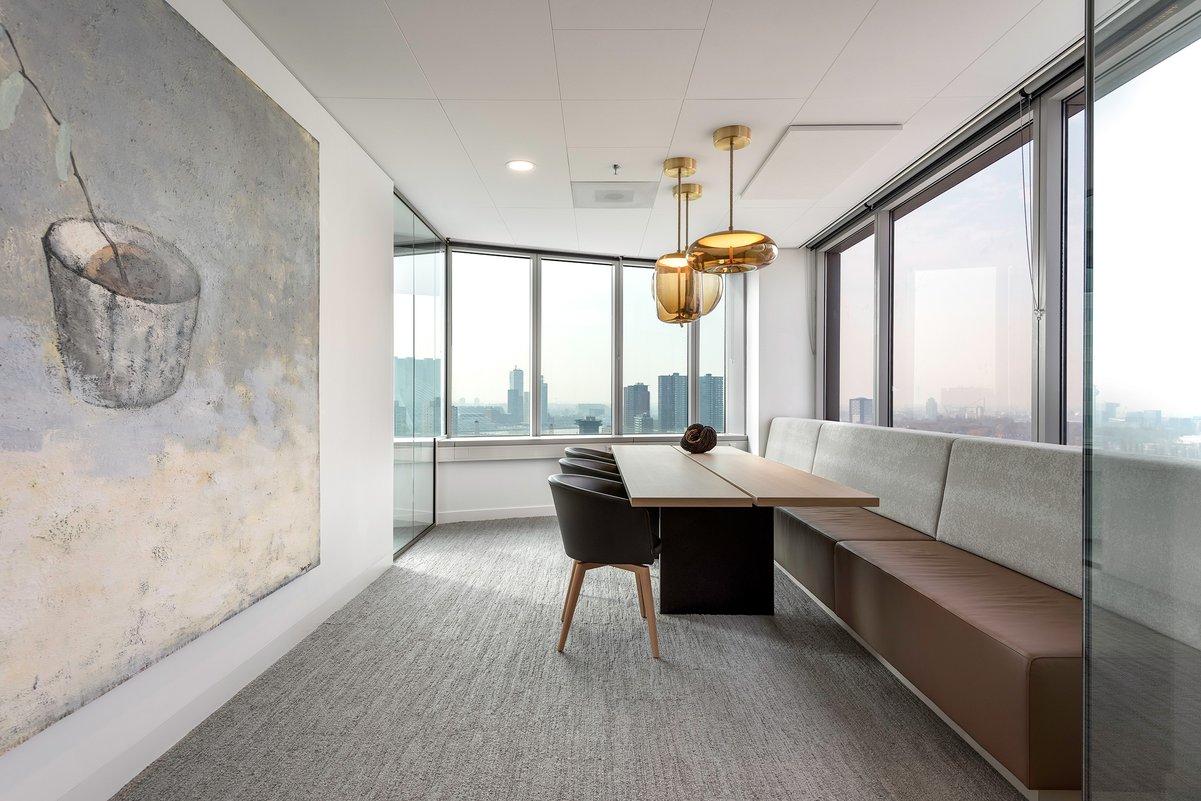 In order to maintain the charm of a townhouse when moving into a highrise building, Fokkema & Partners introduced a modern version of traditional 'ensuite' rooms; unexpected yet complementary to the contemporary office space on the 20th floor.
The elongated floorplan is divided into three zones, a homely zone where Leijnse Artz receive their guests, a private office zone with spacious corridors along the long sides of the plan, and the support office, situated on the location with the best views. To make the transition to the support office and enhance orientation, the sequence of private rooms is interrupted. This adds two informal open consultation spaces to the original program at the end of the corridors while opening up the building corners for all employees to enjoy. Thanks to the zoning concept, the law firm could maintain its open-door policy. Sliding doors were introduced in the all glazed separations, these can be left open without blocking the corridor or taking up space inside the room. When closed, the doors do offer high acoustic insulation.
The 'ensuite' rooms are located at the other end of the corridors. Here the typical sequential interior vistas are materialised with a contemporary take on the original ensuite: they are outfitted with steel-framed glass doors. Integrated bookshelves flank the double door openings and a herringbone wooden floor refers to the archetype of a townhouse. The concept is enriched with the integration of an atmospheric lighting plan. The gradual spatial transitions add to the overall informal and transparent atmosphere of the office.
The materialization emphasizes the clear layout with lines structuring the design. A warm natural palette matches the identity of the firm and its preference for eastern art. Interior finishes and details are refined and subtle, yet expressive. At calculated positions, reflective materialisation on the walls brings views even more to the inside.
Photography Ruben Visser
The design gives a twist of a residential feeling, combined with great city views, a high degree of transparency and comfortable workplaces.