Ampelmann is a high-tech offshore organization that offers safe and efficient access to offshore assets with their motion compensated gangway systems. Ampelmann moved to a new office in Delft, near the TU. The goal was to design an interior to meet, collaborate and as a showcase of their work. They asked Fokkema & Partners to design an interior that is industrial, green and cosy within their corporate identity.
| | |
| --- | --- |
| Client | Ampelmann |
| Location | Delft |
| Square | 1.847 |
| Timeline | May 2021- October 2021 |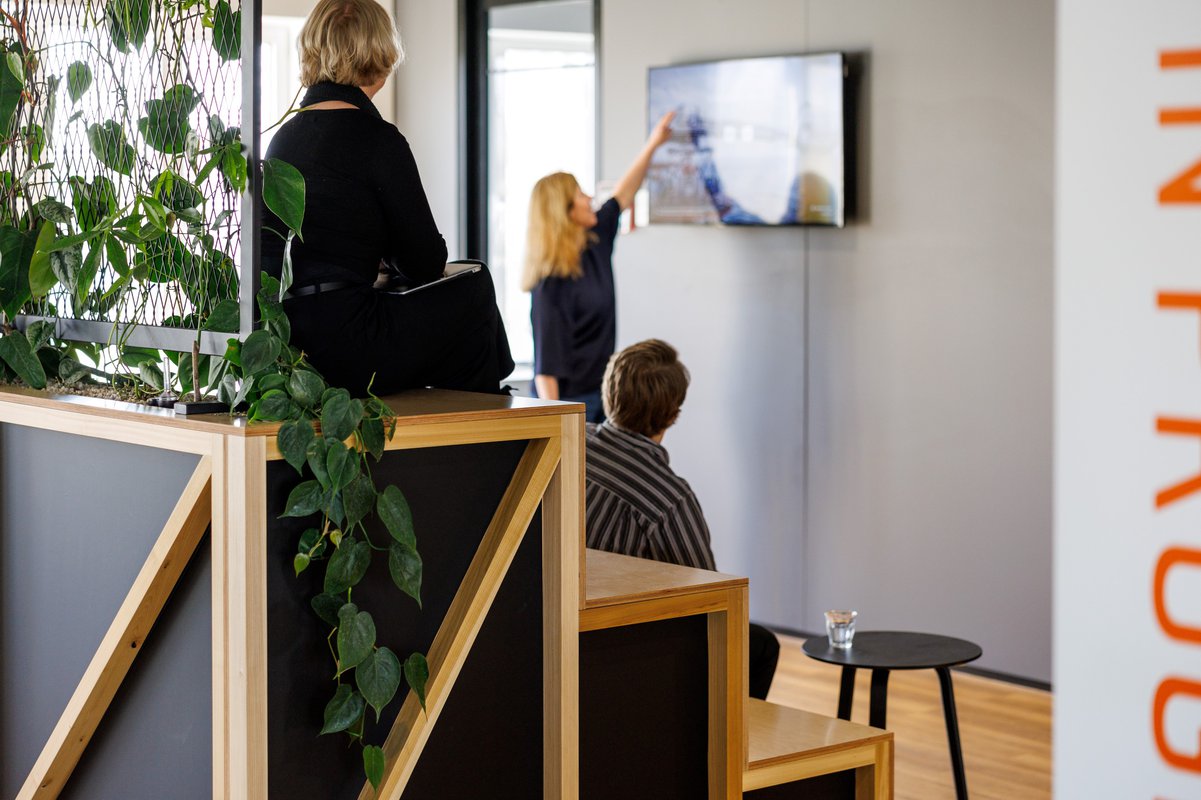 Reset in habits due to hybrid working
Already in the beginning of the pandemic we created an interior design for hybrid working for Ampelmann, without knowing the outcome. We created less offices to stimulate people to do concentrated work from home and only come to the office to meet. At the office we created more than sufficient rooms for online meetings.
It resulted in a reset in habits: am I going to meet at the office or via Teams? People need to consciously think about whether they are looking for each other physically or digitally. Due to the pandemic, there is more attention for hybrid working. Fokkema & Partners was able to adapt this work concept easily, because we always design user centred.
The challenge is to stay connected with the team and organisation since hybrid working becomes more fluid.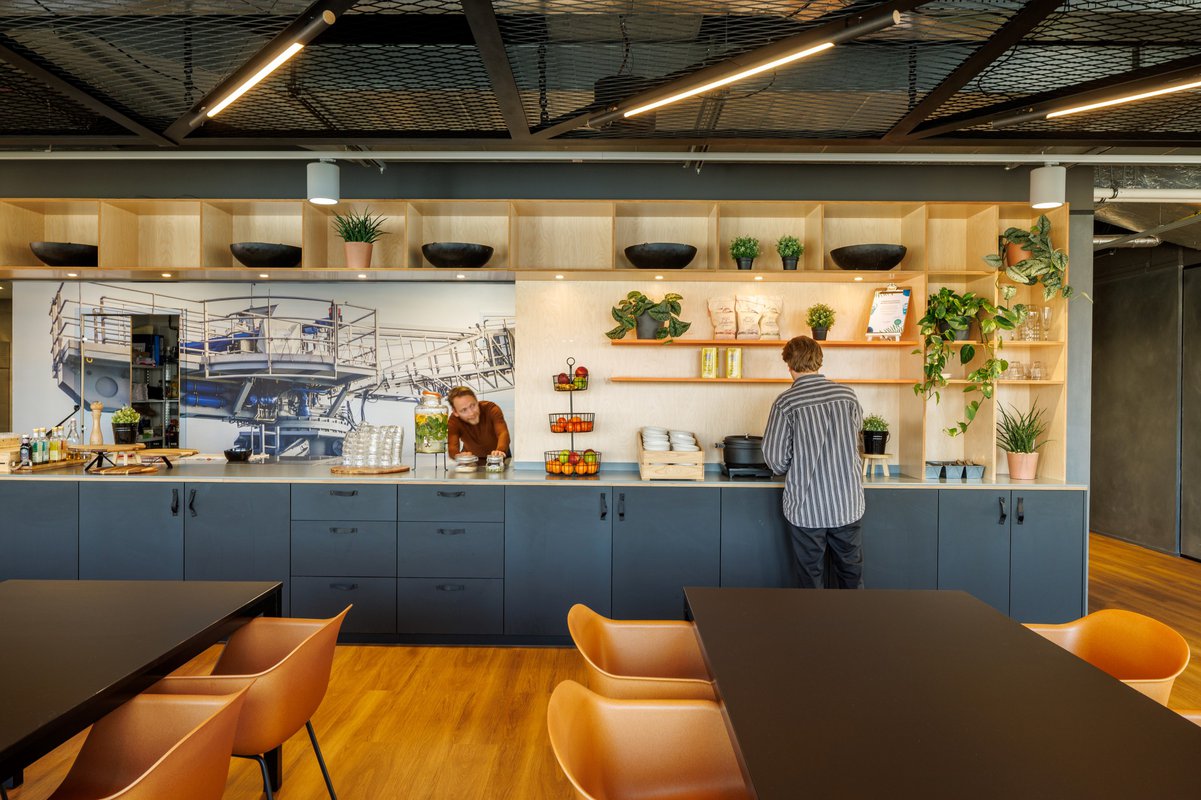 Interior designed for the wellbeing of people
There is a new adjustment in working life and the work environments that fits. Hybrid working is becoming more and more fluid. The challenge is to stay connected with your team and the company and therefore also the dynamics of work and interaction.
That is why we created an interior in which people can easily meet in a vibrant and natural environment. There is a huge and open restaurant with good and healthy food at the heart of the office to stimulate people to lunch together. Wellbeing is inextricably linked to the new way of working and integrated in the connected office concept.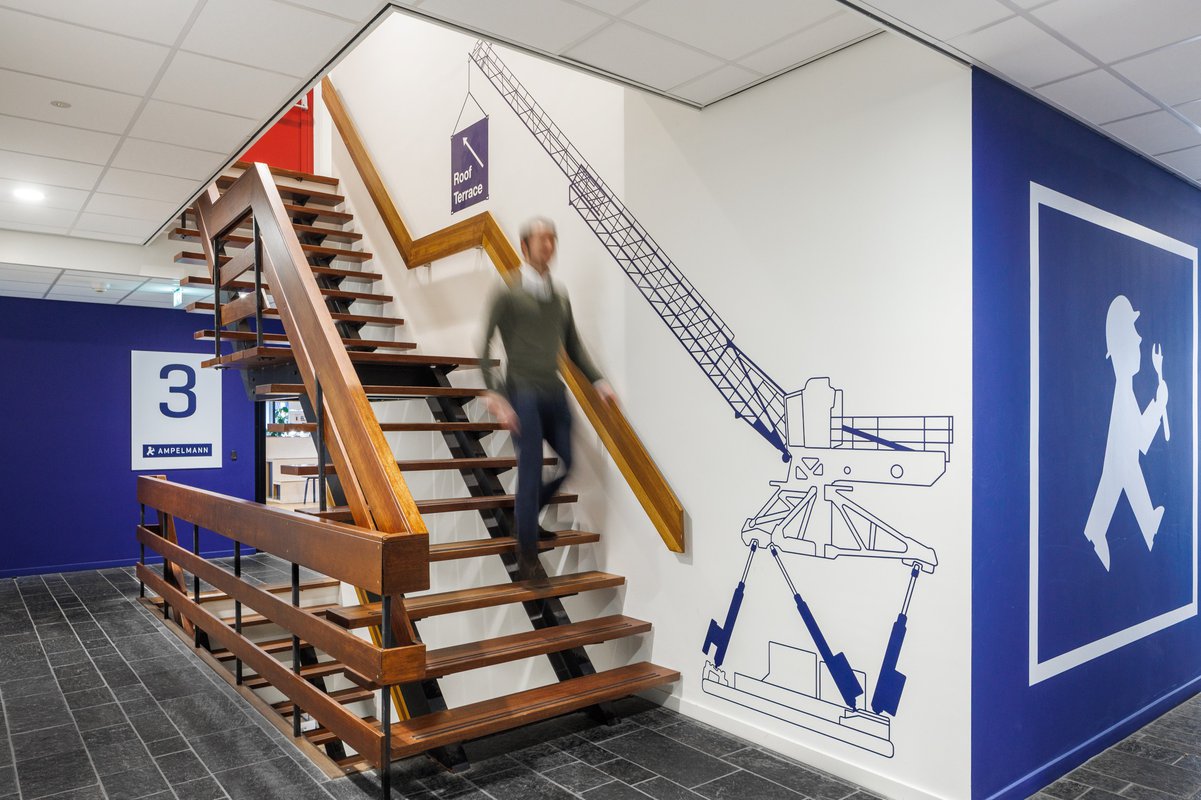 Proud feeling reflected in the interior design
Ampelmann's corporate identity is embedded in the interior design. We took out the ceilings and placed raw elements of the gangway to get that industrial feeling Ampelmann desired. Because the work mainly takes place offshore, we used offshore elements in the interior design to make 'what we do' visible for all employees and customers at the head office. In the 3D spaces and VR rooms people can experience what Ampelmann does. And the blue whiteboard walls with white markers, the carpet with the sea pattern and large graphics of the gangway on the walls creates a sense of collective pride and connection with the organization.
Photography: Bram Vreugdenhil.
It is a perfect match between industrial pride and a healthy, personal environment that stimulates to meet and work together.