This week, with permits granted and the contractor all set up on site, we celebrate the start of construction on the Hotelschool in The Hague. The project entails the sustainable renovation of the building at Brusselselaan with a thorough adaptation to contemporary education concepts facilitating more work and study-places and featuring new installation concepts.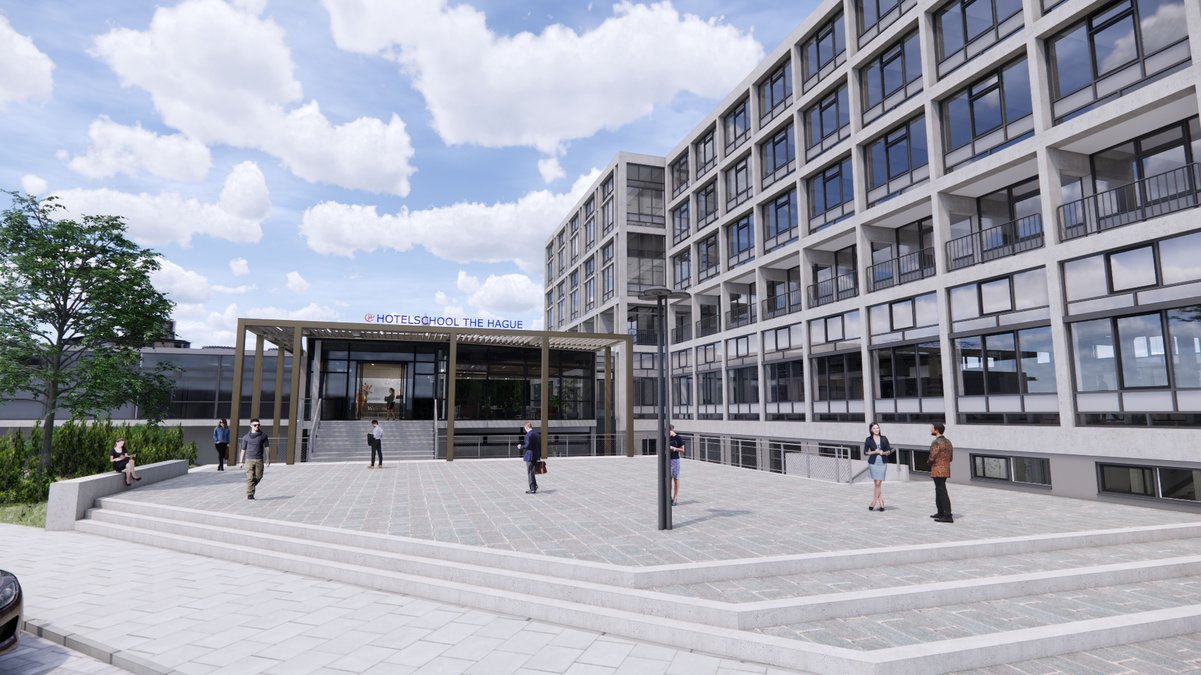 01-07-20
Analysis of the existing complex revealed an articulate building structure with many opportunities to interconnect floors, transform the semi-basement into an attractive meeting hub and make a self-evident transition from the original high rise to its wings which were added in the 1990's.

To unlock the potential, the main entrance was moved to a new construction which was added to the southern wing. This intervention also activates a welcoming schoolyard and provides the Hotelschool with a generous lobby to do justice to its character. 
Resonating the plasticity of the original façade, the structure of the new entrance merges the different building parts to a uniform yet interesting overall appearance for the Hotelschool. The original façade by Lucas & Niemeyer, who designed the high rise in the 1960, turns out to be a real gem.
It discloses a split level, includes a recessed gallery and features an elegantly dimensioned glass layout. New paint colours emphasize its plasticity and with the design of the new school yard, the Hotelschool regains a rational, almost constructivist allure, which is complemented with a contemporary user experience.
Along with the Hotelschool, its student operated restaurants, Arcadis, Ooijevaar and other partners, we are looking forward to the completion of the project in the summer of 2021.